Elyrian is the God of Magic. He provides his disciples with the ability to cast spells at a discount rate.
Powers
[
]
1. Deal 1 dmage to the two highest health enemy creatutres.
2. Foresee 2. Your god gets protected.
3. Deal 2 damage to an enemy creature.
4. Delve a spell from your void. Give it soulless and it costs +1.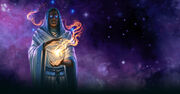 Cards in Core and Genesis include:
Dimension Looper

Exoscout

Frey, Archmage of Selene

Guardian of the Gates

Leyhoard Hatchling

Manathirst Golem

Merlin

Oni Spellsword

Planetar Envoy

Pocket Channeler

Rift Scholar

Salvaged Sentinel

Shadow Prince

Soothsayer

Tome Golem